6 Luxury Options for Your Outdoor Kitchen
For outdoor kitchens, South Florida is the perfect locale! These luxury installations make enjoying your backyard that much more fun and functional. Entertaining is a breeze and enjoying your pool, the weather, and your family is an event when you can cook outside. While outdoor kitchens are, by definition, luxury spaces, you can add more options to really take your outdoor kitchen to the next level.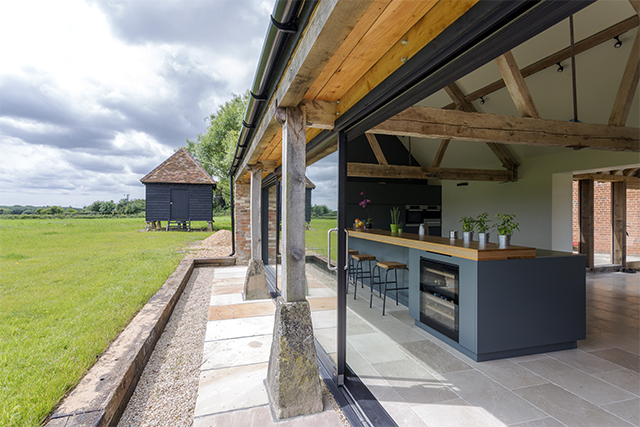 Outdoor Bars
Of course, most outdoor kitchens come with a grill and a refrigerator. But what about the bar? If you entertain a lot or often hold parties, an outdoor bar might be just what you need to get the party started. You can use different coolers and spaces to keep your alcohol cool and stocked, and may even include plumbing for a sink. Your contractor can add plumbing lines to include hot water and cold water, with proper drainage so you get the entire experience in your outdoor kitchen.
Outdoor Entertainment Spaces
While the entire outdoor space is the entertainment area, we're specifically talking about mounted televisions, speakers, and sound systems. Whether you want to spend a warm South Florida evening watching your favorite shows outside or you're holding a big pool Flōridian party for the big game, the introduction of entertainment elements can make your outdoor kitchen the hot spot for all of your friends to hang out.
While you should aim to be considerate of your neighbors, a big speaker system can make your space more enjoyable as well. Consider this the next time you're spending time by the pool and want to listen to your favorite music.
Luxury Grills and Stoves
Outdoor kitchens naturally come with a grill, stove, or some combination of both. If you're thinking of the same grill you use to make burgers on the weekends or the stove you use in your indoor kitchen, you're thinking too small. The outdoor kitchen is the perfect place to go wild with a luxury grill, griddle, and other cooking appliances. Add a small smoker to get the best out of your meets, and don't forget to make the grill surface as large as possible!
Outdoor Wine Refrigerators
While indoor wine refrigerators can be a bit delicate, the outdoor options are sturdier and respond better to temperature fluctuations. These wine coolers are durable enough to withstand mild weather conditions and adjust quickly to compensate for ambient temperature. To get the most out of your outdoor wine refrigerator, make sure to keep it in the shadiest spot in your outdoor kitchen. Put it far away from your heaters and ovens. They must be properly ventilated, too. Once you have all of the fine details figured out, nothing is better than wine cooled to the perfect temperature on a warm spring evening.
Wood Fire Pizza Ovens
If your indoor kitchen wasn't built with a wood fire oven in mind, installing one might be a pain. Besides, they all need some measure of outdoor ventilation. An outdoor kitchen, then, is the perfect place for the wood fire pizza oven of your dreams. You can make your oven as elaborate or as simple as you like. From countertop pizza ovens to large brick constructions, the sky is the limit. A pizza oven can make your outdoor kitchen into your own luxury pizzeria. You're sure to impress your friends and neighbors.
Outdoor Awnings or Shade Structures
Of course, you're going to want your outdoor kitchen under some type of shade structure. This is for convenience, but it also helps protect your kitchen from the elements. But why stop at a covering for your kitchen? If you have enough space in your backyard, you can create a whole cabana right off of your outdoor kitchen. A small structure with televisions, multiple tables and couches, and even a fireplace can be a great place to relax. Include enough ventilation and open up the sides to get the most out of the great South Florida weather!
Conclusion
The beauty of your outdoor kitchen is that it's entirely customizable to meet your needs. You can change your appliances, add options like ice makers and wine coolers, and design the entire space however you like. These luxury options can help wow your guests and make it more fun to use your outdoor kitchen.