Grandparents Never Die, They Become Invisible… Everyone Must Read This, It's Heartwarming!
Grandparents never die, they become invisible and sleep forever in our hearts. We miss them truly, we miss the conversations, we miss the time that was spent with them, and we miss them being alive. But the fact that we spent a lot of time with our dearest grandparents made a huge impact on our lives, and we learn to cherish every single moment that we spend with the people we love.
While grandparents witness us growing up, help up with our upbringing, we witness them saying goodbye slowly to this world. The death of a grandparent is usually the first farewell that we encounter in our lives.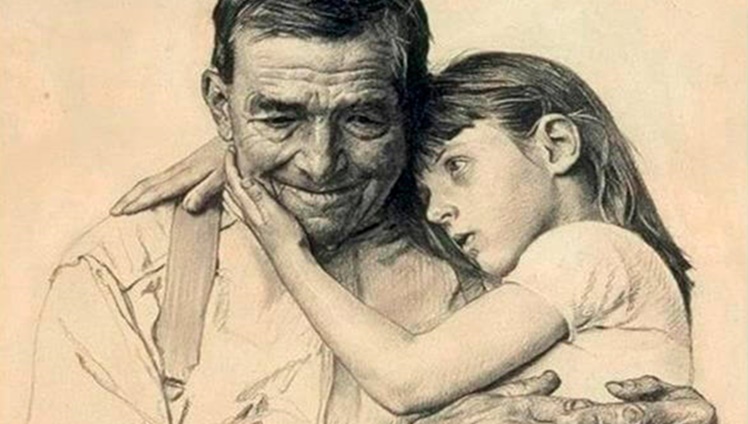 Grandparents have an active role in raising us into this world as correctly as they can. They have experienced the good and the bad of this world, they understood most of it, and will try to pass their knowledge onto us. It's true that we create a strong bond with our grandparents sometimes even stronger than our actual parents. Through play, going out in the park together, making their wonderful meals for us, and when we get older, they pay attention to us more.
It's really hard to face death of a grandparent because they have been with us and loved us until their death day. Our parents really try to explain the death softer to us, to make it less painful.
Adults should explain clearly to their children and they should tell them the truth, this is the advice of Psych pedagogues, and they say that it's necessary to adapt this truth according to their age, and to let go of the old metaphors like "a star that it's sleeping in the sky".
They also give these advices that we should all pay attention to:
We must help the child understand death without using metaphors because they are useless to them. If we say that the grandparent left, the next thing is –when he will return.
Avoid trying explaining death from a religious point of view to the kid. The kid not only will not fully understand, but you're unconsciously advertising religion to your kid that maybe won't result in a wanted way.
It's really important for the parents to not hide their feelings and cries in front of their child. Kids learn from their parents, and they should also learn that expressing emotions is better that suppressing them.
Parents have to be attentive because this is something that will lead to many of their questions. Try to have patience and answer most of them.
Even if they're not they're very present.
Even if they're not here with us, they live among us. They are here with us, in our known locations that we used to spend time together, in our family meetings, in the dinner parties that we held together. They are with us, even through our hardest times.
Our grandparents are there, in our yellowed and black&white photos that we have of them and they are still young and beautiful there. It's the memory they shared with us, and we know about those photos and their lives back then.
They are still present when we celebrate our birthdays, we mention them, and they were here with us when we celebrated our first years of live. Now we are older, but they still cherish our moments of our growing up.
They are into our genetics, we may resemble them, we even may look a bit like them, the way we think, talk or walk, and they have left a big imprint on our lives so genetically we have a small part of them too.
It's the moments of growing up, laughing, crying and appreciating every single moment with them. Their smiles will live with us forever.