75-Year Harvard Study Reveals The Most Important Factor in Human Happiness
Have you ever heard about the Harvard study that has been going on for 75 years? It's a revolutionary study in psychology that's trying to assess what makes us happy.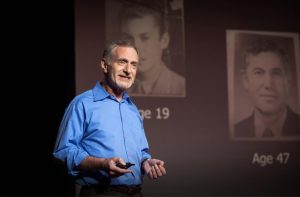 The study followed the lives of 2 groups of men, aged over 75 and now it follows the lives of their baby Boomer children to comprehend how childhood experience reached across the decades and affects wellbeing and health in middle age.
What keeps us healthy and happy? Many people think it's money and fame, but they're wrong.
Psychiatrist Robert Waldinger, director of the 75-year study, explains what keeps people happy throughout their lives in his TED talk.
"The clearest message that we get from this 75-year study is this: Good relationships keep us happier and healthier," says Waldinger.
It seems that the biggest predictor of fulfillment and happiness is love.
The study shows that having someone to rely on, someone you can fully trust helps your brain stay healthy, reduces emotional pain and makes your nervous system relax.
The study also shows that people who are lonely are more likely to experience physical health decline and die younger.
"It's not just the number of friends you have, and it's not whether or not you're in a committed relationship. It's the quality of your close relationships that matters," explains Waldinger.
It doesn't matter if you have hundreds of friends or you're in a perfect relationship; it's the quality of the relationships that counts.
This 75-year study is a good reminder to prioritize authentic connections with people.
You can have all the money in the world, but if you don't have a loving relationship, you won't be happy.
Take a look at the video!