Hey, party animal! Heading to Goa? Here are The Best Night Clubs in Goa You Must Not Miss Out On
Goa is known for the sea, sun, and sand, however mostly for the lively and throbbing nightlife scene and the beach parties which goes along all night. The place is brimming largely with nightclubs that will satisfy the party animal in you. Goa is popular as the most sought-after destinations for a holiday in India. People from all over the world come here for the major attractions it provides.
It boasts the most happening nightlife and delivers a multitude of happening night clubs. Tourists love visiting the nightclubs to experience the crazy wild parties and its trance music. The variety of night clubs in the state confirms the beautiful spirit of Goa with reference to partying.
The partying skills can never be matched with any attraction anywhere else. The thrilling, exciting nightlife is the driving attraction for the tourism of Goa. Here are the best night clubs in Goa you must not miss out:
1. SinQ
The very first thing which comes to the mind while talking about experiencing the best nightlife place in North Goa is SinQ. This place is undoubtedly one of the best pubs to visit while looking for the best nightlife experience in Goa. This place widely offers nothing less than a heaven for the party buddies.
This is one of the night clubs in Goa that comprises of a poolside lounge. This night club is located near Taj Holiday Village while hosts some great DJs playing the latest hits. It comes with a lively nightlife which surrounds the sound system, which makes you hit the dance floor right away.
Dance and sip on your favourite drink outside the cabanas and next to your pool. It comprises of a hospitable staff consisting of a fully stocked bar along with a poolside deck offering delicious Goan delicacies.
Timings: 9 PM to 2 AM
Cost for two: INR 1800
2. Club Cabana
This club hosts glowing neon-lights and has one of the coolest DJ sets in town. It is nestled atop the Arpora Hill and has a huge outdoor area comprising of a pool along with multi-level dance floors. Along with this, it boasts music that spans across various genres, starting from techno to disco beats.
There is also a fully stocked bar along with friendly barkeeps. The cover charge is though expensive but comprises of unlimited drinks where stag entries are not allowed. It is the ideal place to groove all night long with your best friends and dancing partner.
Timings: 9.30pm to 3.30 am
Cost for two: 2,500 approx
3. Antares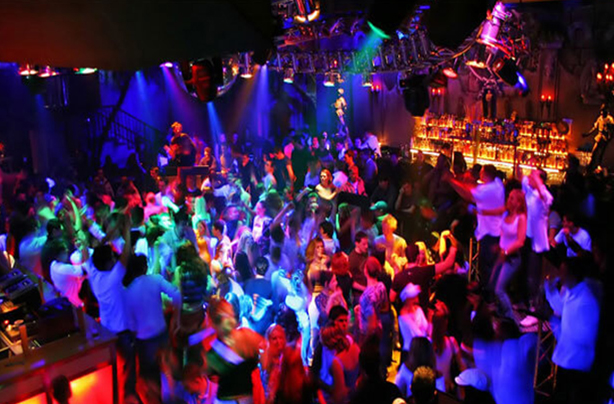 This pub is one among the best night clubs in Goa that is the brainchild of the ex-contestant of Masterchef Australia, Sarah Todd. Antares lives up to its name as being the brightest star in the constellation of Scorpio. It is located on the cliffs of Vagator Beach as serves as one of the most aesthetically pleasing beach clubs in Goa.
It offers a wide range of cuisine that is sure going to be delectable for everyone. A wide range of cuisine is available that spans from French to Goan while offering a good vibe for all tourists. It is a must-visit for those who wish to engage in the actual authentic culture of Goa with great food and lovely ambience.
Timings: 12 noon-12 midnight
Cost for two: INR 1800
4. LPK  Waterfront (Love, Passion, Karma)
LPK is a waterfront nightclub that is located in a very exotic location. This is located right next to Nerul river. It is very hard to miss as you can easily spot the sign 'Love, Passion and Karma' over water. It is a very vibrant place with the most amazing music that is eclectic, diverse, and extremely lively.
This further makes it the ideal place to party and let your hair down. Indo-Portuguese church and the waterfront location in the backdrop along with the rock-carved themed décor makes it one of the best scenic nightclubs in Goa.
Timings: 9.30 to 3.30 am
Cost for two: INR 1500 approx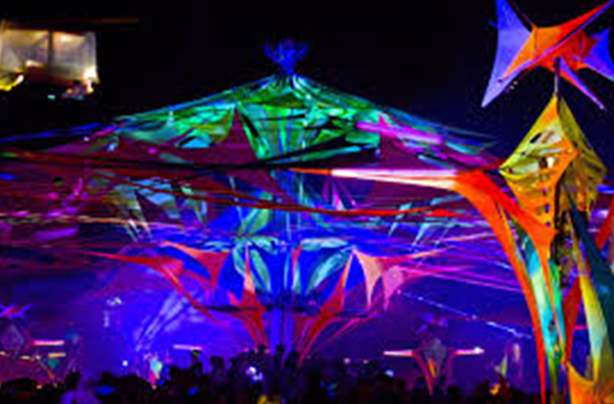 5. Silent Noise Club
This club is located in South Goa and is a lounge that is visited and loved by many due to its unique concept. It boasts of multiple top-notch DJs playing genres like electro-punk, trance, and many others. It is a spot maximum loyal following, with the kind of music that forces everyone to groove along. The beautiful and enchanting views of the Palolem beach add to its beauty. Gear up for the perfect sun downer in the land of beaches.
Timing: 9 PM to 4 PM
Cost for two: Not available
6. Club Cabana
Right from the blaring sounds of the coolest DJs in town to amazing neon-light performances all night long, the Club Cabana in Goa is your go-to clubbing destination. The club is nestled atop the beautiful Arpora Hill and features an exclusive outdoor area with a lavish swimming pool, multi-level dancing floors, and intense music that spans across a myriad of genres. The Club Cabana nightclub is also known to feature a fully-stocked bar with customer-friendly barkeepers for your ultimate entertainment.
Timing: 10:00 pm to 4:00 am
Cost for two: INR 1800
7. Tito's Bar & Club
Since its launch in 1971, the Tito's Bar & Club has been the top favourite of club enthusiasts from different parts of the world. Since its age-old lineage, the Tito's Bar & Club is one of the most famous nightclubs in India. The bar area features an exclusive alfresco restaurant that offers direct access to the Baga Beach in North Goa. The bar remains fully stocked with both international as well as Indian spirits. The club is also known to invite top-class DJs from different parts of the world to enhance the overall clubbing experience.
Timing: 6 pm to 3 am
Cost for two: INR 1500
8. Café Mambo
This top-class café can be your best bet if you are looking forward to enjoying an intense dancing experience all night long. Café Mambo in Goa features an impressive line-up of world-class DJs and entertainers –making the place a hotspot clubbing destination in Goa. In addition to intense music and dancing, food & drink is also great here. There is a huge variety, and these are affordable as well.
Timing: 6 pm to 4 am
Cost for two: INR 1500
9. Kamaki
Located on the famous Tito's lane in Goa, the Kamaki nightclub is considered as a perfect clubbing spot for those who are looking forward to enjoying a crazy night-out experience in Goa. The intense nightclub is known to bring together some of the top DJs of the world, along with live musicians for enhancing the overall experience of the guests.
Timing: 6 pm to 4 am
Cost for two: INR 1500
10. UV Bar
If you are looking forward to enjoying a night full of trance, you can head straight to the high-end UV Bar in Goa. The club cum bar area is located on the northern end of the Anjuna Beach. It is regarded as the perfect destination to catch glimpses of breathtaking sunsets. Later on, you can groove to the latest music tracks including Hip Hop, House, Top 40, and so more.
Timing: Open 24 hours
Cost for two: INR 1500
All the party animals can now hop on into these night clubs to experience the best kind of night life with their dancing partners. Head to these clubs on your next trip to Goa and dance till you drop!