Tighten Your Belly in Just 21 Days with This Plank Challenge
We all desire that perfect image body that we all seem to work out very hard for. Magazines, instagram, other social media, videos with tips and tricks are absolutely everywhere to point out what flaws do you make when you work out, helpful tips with the food you should eat, and like it or not those can be really helpful but also stressful because we don't know what exactly to do when there are so many options and variations to try.
Planking on the other side is a very popular exercise among the fitness community and it's really a top one when it comes to better results. Planking improves our daily workout and it gives us benefits for the whole body. Here's a program made of 21 days with our plank challenge: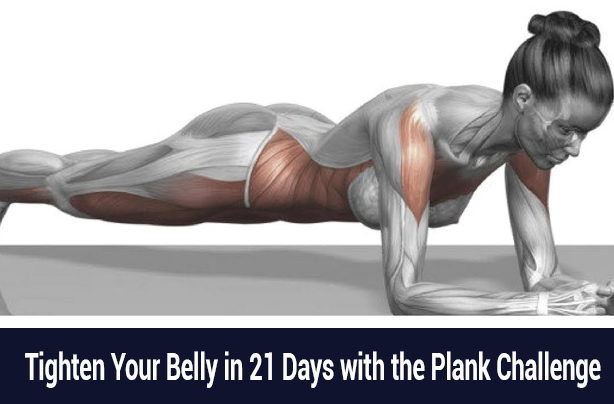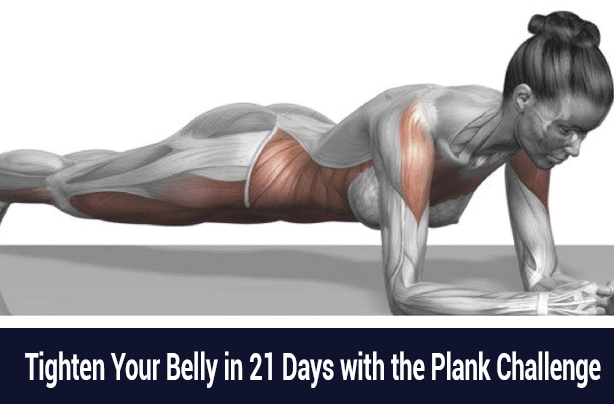 Days  1-2:
Start the exercise with one set of 30 second planks
Days 3-7:
Now do two sets of 30 seconds planks, but now do 1 set in the morning and 1 set in the evening before you go to bed. If you make it up to 60 seconds, even better for you!
Days 8-10:
Increase planks for two sets and 60 seconds instead of 30! This can be a little harder for you now, so try to make them as steady as possible, it's easy to get sloppy at this point.
Days 11- 15:
In this period, you can try different forms and variations of planking, you can try some moving plankings when you start off with both of your forearms supporting your body but you later raise one arm and you support on the other one, or you can search on YouTube other different forms of planking that are suitable for you. It's important to do them differently now and to stay up to 60 seconds.
Days 16-18:
Now it's the time to push yourself to see how much you can last. If it's 70, 80, 90 seconds, just don't choose mentally a number of seconds so you can give up. Try your maximum without thinking about it. And still pay attention to the form of your body!
Days 19-21:
Now as the last phase, you can shake the things up and try to do different variations, maximum amount of time you can make and you can do 3-4 sets in the whole day, starting one in the morning, one or two in the day and one before you go to sleep. And every time you do this, focus more and more of your posture! The form and the position of the body can give you the best exercise, and you know what a good exercise means.
DON'T:
– Hold your breath
– Allow your hips, shoulders, legs to drop
– Place your hands too close to one another
– Try to hold on too long to a position, it's better to do shorter amount but to do it right. There's no point in long bad posture of the body, it's not beneficial for you that way.