Midnight Kitchen Tools Develops The Perfect Pizza Cutter, The Midnight Slice
Pizza has been around for hundreds of years. In the world of food appliances, there is no tool more iconic than the pizza slicer. In fact, the new circular pizza blade has been around for such a long time that the mere sight of it holds no mystery anymore. 
Silvio Pacitti created the first cutter in the form of a mezzaluna (half moon) in 1708. While most standard knives cut products by dragging them across them, the mezzaluna had a rounded blade that required a downward motion to roll it across the food to be cut. From that point onward, he had invented something to make food preparation easier. Originally, the mezzaluna was initially intended for vegetable and herb chopping. Nevertheless, there are now large contemporary versions that can cut all kinds of pizza quickly and evenly.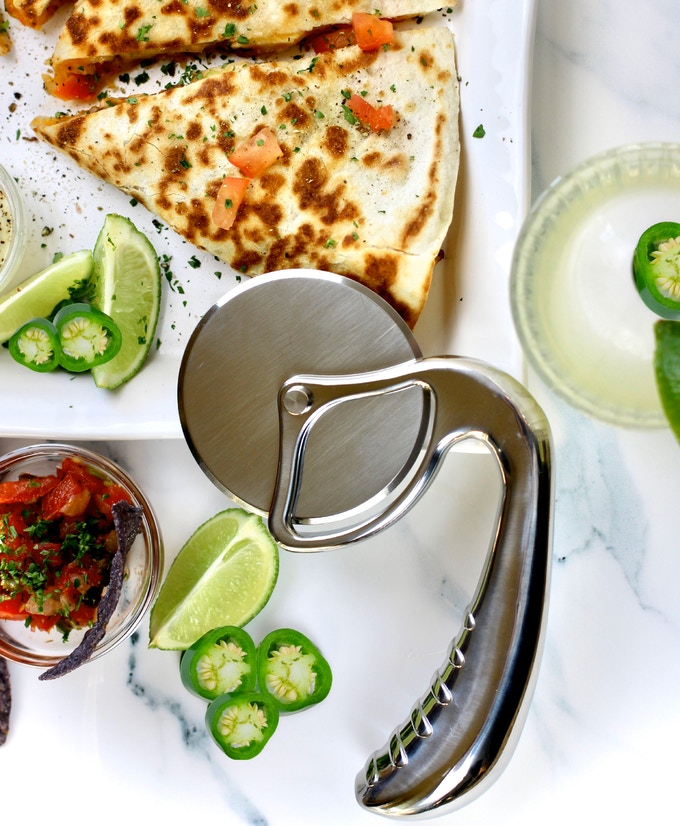 The modern pizza wheel that we now know was originally developed by David S. Morgan as a wallpaper trimmer. The pizza cutter was further advanced in 1922 by Carl A. Frahm with a variation of the handheld cutter used for a more culinary application. From that point, the first circular blade cutters were designed with much smaller blades, and as time passed and the proportions of pizza toppings and cheese increased, blade sizes also increased. With more prominent blades, people can divide pizza without dislodging toppings.
Four main types of pizza cutters exist on the market: pizza cutter wheels, pizza cutter rockers, scissor-style cutters, and specialty designs. The most popular form of pizza cutter seen in American homes is the pizza cutter wheel. These cutters have a long handle with a sharp blade wheel attached to it. The diameter of the wheels usually is three to five inches. Direct grip pizza wheels are also becoming more popular; they do not have a handle but a cover that you can use to grip the wheel. This gives more leverage than a long handle wheel, but it's also harder to see where you are cutting since your hand can get in the way. The pros of a pizza cutter wheel are that they are easy to use and much easier to store. As mentioned before, the second most common pizza cutter is the mezzaluna or pizza cutter rocker. They are typically found in commercial kitchens and feature a long blade which needs to be rocked across the pizza to cut it in half. They are efficient and easy to clean, but they are generally quite large and can take up quite a lot of room in a kitchen. Scissor-style cutters and pie serve shape cutters are not as common as other types of pizza cutters. Even so, they can make incredibly even and straight slices and can be easy and even fun to use. However, they are pretty inefficient compared to rockers and wheels. Finally, the fourth pizza cutter speaks for itself. Specialty and customized pizza cutters have popped up over the years and have a place in the market. 
However, even with such a wide variety of pizza cutters, the one thing that seems to be lacking is ergonomics. Ergonomics is the study of how humans interact with man-made objects. Its goal is to create an environment that is well-suited to a user's physical needs to optimize movements and postures that could be harmful to our health. With that in mind, many companies have started creating ergonomically enhanced tools to improve efficiency while reducing discomfort, fatigue, and risk of injury. Some helpful features of ergonomic tools include angled handles, padded handgrips, and non-slip coatings. Even so, no matter how impressive the design, it is practically impossible for those tools to be universally ergonomic since peoples' physiques vary significantly. So, when you are looking for tools, you need to consider whether or not the tool fits your hand, how well it is suited for the job that needs to get done, and whether or not prevents you from straining in ways that could lead to injury. 
In an effort to combine function with ergonomics, Midnight Kitchen Tools has been making ergonomic products focused on comfort, efficiency, and safety since 2013. The company's goal is to launch innovative ergonomic items that thoughtfully raise the standards for kitchen tool design while also making life more straightforward in the kitchen. In search of a solution to protect his wrist from the discomfort of scooping cold, hard ice cream for his family, founder Michael Chou created the world's first ergonomic ice cream scoop. He took the original design and developing countless redesigns and prototypes, which have been featured in multiple magazines and articles. After the success of the Midnight Scoop, he discovered that there was another kitchen utensil that needed improvement. 
At the beginning of the COVID-19 pandemic, Michael took the advice of governments worldwide and stayed at home to prevent the risk of getting infected by the virus. Like many around the world, he started experimenting and creating new recipes for foods that his family had enjoyed in restaurants. One of the foods that his family loved the most was pizza, so he would either buy a frozen pizza from the grocery stores or try to make it from scratch. As with the ice cream scoop, Michael did not have the right tools to achieve his home cooking goals. He found that many pizza cutters were uncomfortable to hold, difficult to use for cutting, or impossible to clean. For this reason, he decided it was time to develop a new design for a traditional classic.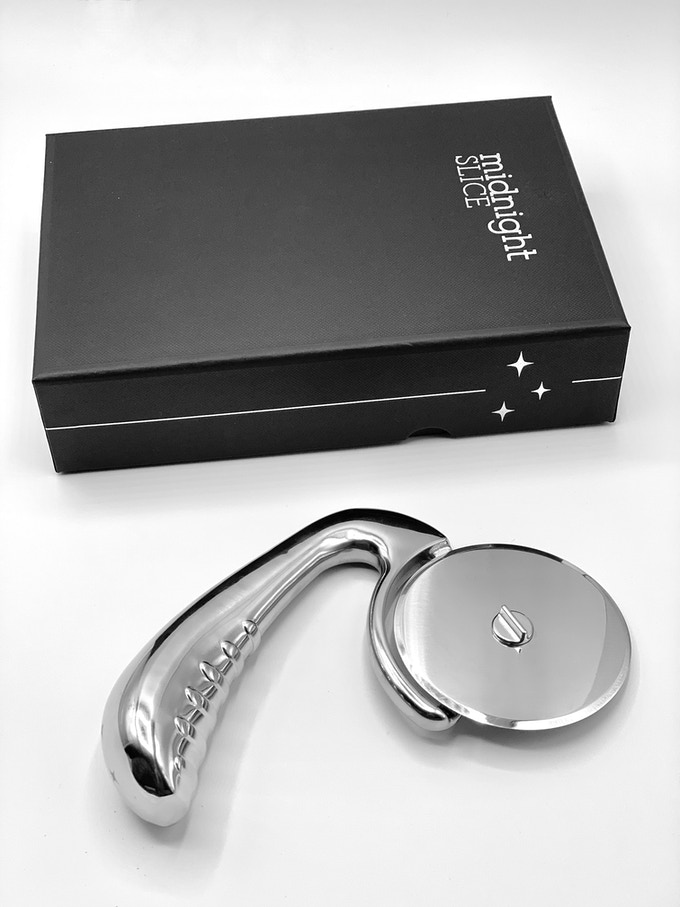 After many sleepless nights, Midnight Kitchen Tools is proud to announce the launch of the Midnight Slicer. The product was launched on the crowdfunding platform Kickstarter on Tuesday, May 11th, and aims to be the world's first ergonomic pizza/food cutter. 
After experimenting with dozens of traditional pizza cutters, taking them apart, and analyzing each one, the team determined that the perfect cutter needs to have a balanced weight, and a sharp high-quality blade, and an ergonomic handle. They also knew that the best pizza cutter should not cause people any wrist strain, which is why they decided to design a slicer that can reduce wrist fatigue and make it easier to clean. 
What makes the Midnight Slice unique is that a lot of physics and engineering went into the overall design. This design allows the user to "push" into the food that they want to cut using larger muscles in their chest and arms instead of weaker wrist joints. The finger grooves help users grip the handle more easily, giving them the ultimate control when slicing food. Also, the curvature in the front of the handle near the blade helps keep the wheel aligned and balanced while users apply force.
The slicer's 3 parts, (the ergonomic slicer, the sharp cutting wheel, and the wheel-tightened screw), are 100% stainless steel. It is designed to be efficient and comfortable for anyone's hands. Not only is the Midnight Slice suitable for cutting pizza, but it can also cut through a variety of different foods like quesadillas, pies, vegetables, pasta, and even blocks of fudge. The utensil created by Midnight Kitchen Tools will be a convenient addition to any kitchen and will last a lifetime. 
Are you interested in the Midnight Slice and other products by Midnight Kitchen Tools? Click here for more information about their Kickstarter campaign.