Support System For Elders: Equipment That Can Help In Better Mobility
Are you a senior citizen who prides upon their self-dependent lifestyle,  but lately, you have found yourself struggling with daily chores due to your health ailments? Whether you are elderly who likes staying at home or someone who would like to travel around, mobility aids could be a great tool to help you stay comfortable.
As per a research conducted in 2016, 2 in 5 (45%) seniors lived alone. When an elderly lives alone, they are more at risk of tripping, falling, and eventually damaging their bones. However, this does not mean that you have to stop living independently. The secret to an accident-free independent living is using the right mobility equipment and daily living aids.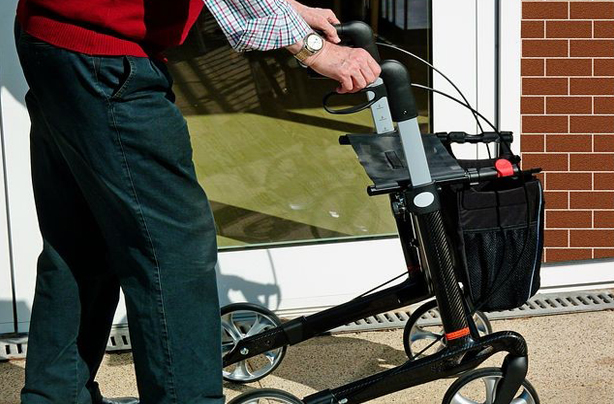 So, here are some pieces of equipment that can enhance your independence both at home and outside:
Canes:
Also known as walking sticks, canes are great at providing seniors with extra support to improve their limb strength as well as stability. A cane supports up to 25% of a person's body weight, thus, lowering the pressure on their legs. It an impeccable tool for those who experience impaired balance or mobility issues, and it is a must for those who have recently gone for knee surgery.
Zimmer Frames:
Zimmer frames, as a walking aid, provides added support for disabled or elderly people, who require higher support to maintain balance and stability while walking both indoors and outside. It is an ideal tool for those who are in the middle of the recovery phase from a leg injury. However, with walking frames, the user needs to pick them up at every single step. Hence, this equipment is not ideal for patients struggling with frozen shoulders or weaker arms.
Rollators
Rollators are also popularly known as rolling walkers or mobility walkers and are available in various shapes, sizes, styles, and weights. Click here to see some of the best options. A rollator makes getting around the house and outside easier. Many designs come with attached baskets, seats, and brakes, which makes it a very secure mobility aid.
Power Scooters
A motorized scooter could be suitable for elders who have issues with walking a long distance, but at the same time, they have a steady and sound upper body strength. They are available in many designs, including three- wheels or four-wheels, indoor scooters, outdoor scooters, lightweight models, heavy-duty models, etc. Indoor models have a thin base for easy maneuverability in narrow spaces, whereas the outside models come with four wheels to offer enhanced stability.
Manual Wheelchairs
Sometimes a cane or a walker is not enough for those who experience intense leg problems. Some symptoms include extreme tiredness, unsteadiness, trouble getting up from a chair, and these may lead to damaging falls. These might be the signs that you need a wheelchair to stay independent while participating in family trips and gatherings. The kinds of wheelchairs available today are:
Most manual wheelchairs are easily available and affordable, but the only hiccup, in this case, is that the patient has to work hard to propel themselves or they would need someone to push them.
Power Wheelchairs
Designed almost like a car, power wheelchairs have features like front-wheel drive and independent suspension etc. These devices come in a variety of makes, models and sizes. Ideal for both indoor and outdoor settings, they offer great maneuverability and independence. These wheelchairs come with automatic fixings that help the user go around with optimum ease.
Bed Sticks:
Older adults who have a weaker back or an injured spine, face mobility issues even when it comes to getting up, lying down or simply maintaining their sitting posture. Bed sticks are designed to support the user when they want to move around or position themselves on the bed. Bed sticks are also useful when turning, re-positioning or transferring. Bed sticks offer independence to those who do not have dedicated caregivers or family around them.
Ramps:
These aluminium and lightweight ramps are suitable for wheelchairs, walkers, scooters or power chairs. They also come to the rescue of people who cannot climb the stairs. Most ramps are portable and can be carried whenever necessary. For safety purposes, it is best to ensure that the surface of the ramp is anti-skid and has pads to support the equipment that goes on them.