What Are The Important Elements Of A Traditional Retirement Party
Your spouse is getting ready to start the retired life, and you want to help celebrate them as well as get their retirement started with a bang. So what do you need to know about throwing a party that they will love as well as your guests?
We have put together a shortlist of what elements usually make up a retirement party, so you have some starting points that you can narrow down to fit your loved one and tailor the party to precisely what they want.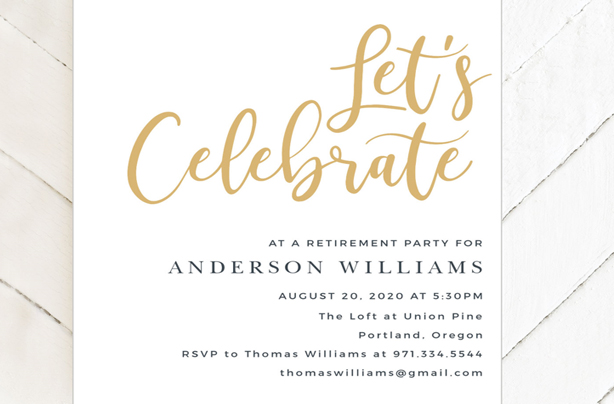 The Inviting Of Guests
The guests at the retirement party are going to be what the retiree remembers. This is the chance for the retiree to catch up with old co-workers, family, as well as friends. Check with the guest of honor to see the number of people they would like to invite and which groups of people. Make sure you have the guest list nailed down before you start sending out your retirement party invitations so that you know how many you will need and make sure all of your guests are covered.
Great Venue/Food/Setup
Once you have the guest list, you will want to find a venue where the retiree feels comfortable. This can be at their home or something like a golf course or event center. Whatever you decide on, you will decorate the space with balloons, blow-up photos of the retiree, or anything else that you need to fit the theme of the party.
As for food, check with the retiree. Get a list of favorite foods so you can have as many of his/her favorites available at the party. This way, they can share what they love with all of their friends as well as who doesn't love all of their favorite foods in one place.
Slideshow/Video
Take everyone at the party on a trip down memory lane with either a slideshow or a video.  Let the video show the guest of honor through the years of work. Ask co-workers and friends and family to contribute photos as well. This will make the exciting for just about everyone as there should be a ton of pictures that not everyone has seen, not even the retiree. You can even make copies of the video for those who would like to take one as a memento. It is also going to be something that the retiree will watch after the party as well.
Toast/speech
One of everyone's favorite elements of any retirement party usually ends up being the toast or speech. This is your chance to give the retiree a little ribbing and express your love at the same time. You can ask the retiree if they would like to give a speech or just some of their thoughts thanking everyone for attending and how much they have meant to them along the way.
Gifts
Retiring is a tremendous change in someone's life. It is the end of an era and the starting of a new time in that person's life. With that in mind, the presents that should be given should be a gift to help them with that transition. It could be something for their current hobby that they will now have more time to master or something for a new hobby that they have always looked forward to learning.
If you combine these five elements, your retirement party is sure to be a hit. Your guests will have a great time, and your loved one will feel the love and thought that went into planning and throwing such a great retirement sendoff.