People Reveal Their Scars And The Story Behind Them In A Powerful Photo Project
Sophie Mayenne is a photographer from London, who was recently working on a project named 'Behind The Scars'. It's a series of very emotional photos of people who reveal their scars and how they got them.
As a photographer I have always been drawn to raw and un-retouched work, and what makes us different to one another – and this is where my interest in scars stems from," says Sophie.
Scars are often seen as ugly and something to hide and be ashamed of. Many people who have scars often feel insecure. Hiding scars sometime can be traumatic making the person vulnerable. But, Sophie managed to make this photo project a therapeutic experience for some people.
 "When I first started the project, I remember saying that if I could make a difference to at least one person, then I have succeeded. As the project has grown, I just hope it will reach more people, and continue to have a positive impact."
Check out some of the photos from Sophie's inspiring project and the short stories behind them.
1. Mercy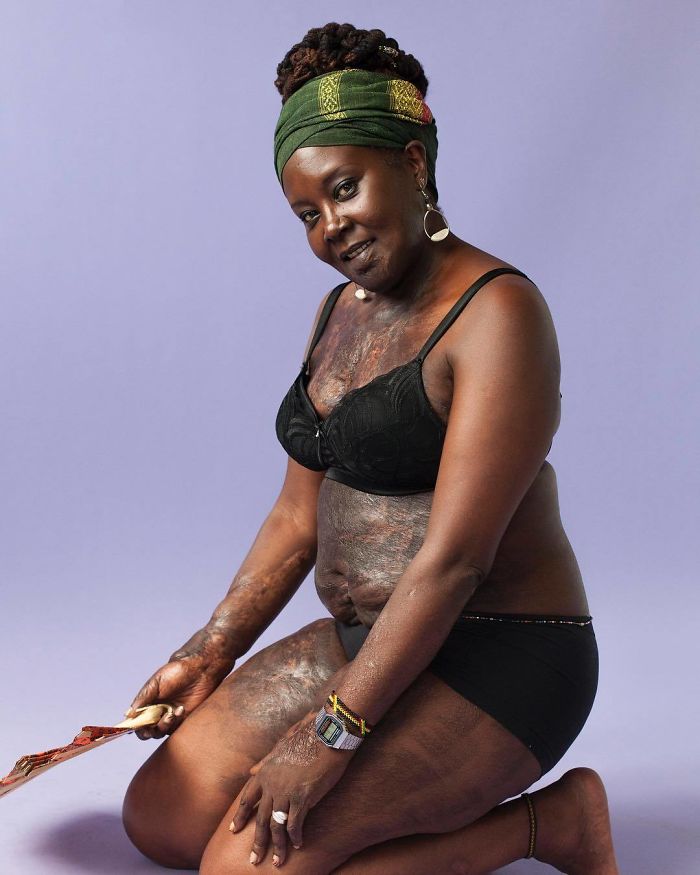 "My scars are from a fire related to domestic abuse. I got burnt at the age of 29, and it's been a difficult journey coming to terms with it. The comfort I take from my scars is they make me who I am today. I call them my most precious, and expensive piece of jewellery I own. I have survived and if having my picture taken, and exposing my scars can help anyone else then that's good for me!."
2. Maya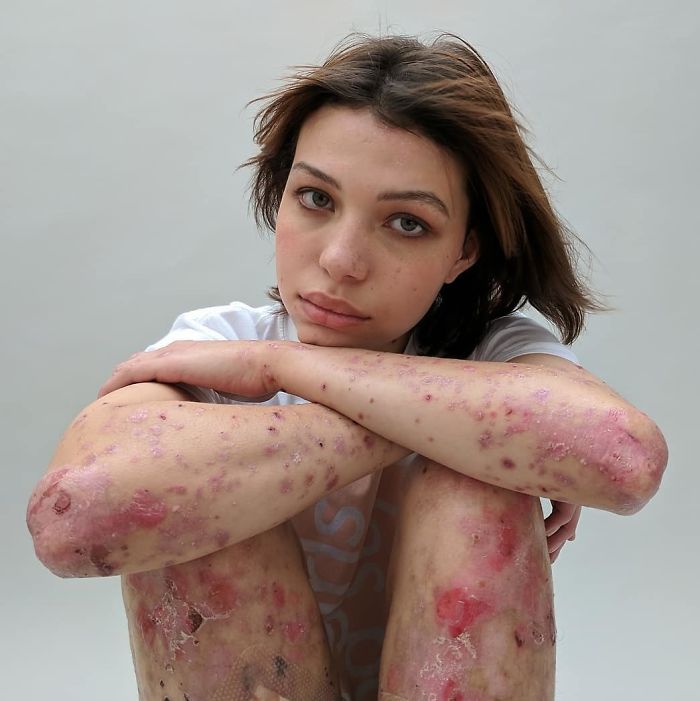 The last few months have been extremely challenging as the condition of my skin as deteriorated massively. From 18 months old when I was diagnosed with epidermolysis bullosa to earlier this year I was able to live an almost normal life despite my skin, it was easy to hide and easy to manage. But earlier this year it started getting rapidly worse and I am now able to do less of the things I once could. My confidence and self esteem is almost non existent most of the time. So much of my day is spent managing my skin or being in pain from it. But now more than ever I need to remind myself that I am still the same old me. I am still beautiful and this condition that I will be lumbered with for the rest of my life, does not define me as a person. It will always be a huge part of my life but i will never let me take over my life. EB is so rare that there is so little awareness for it and in a lot of cases it is life threatening so I'm posting this not only for me but for everyone suffering. Because of the lack of awareness, the funding towards trials and research is so limited that I probably will never access to a cure, as much as that upsets me, I just hope that future children will get access to more treatment and a possible cure. If anyone cares enough to find out more about EB, google search "Debra eb".
3. Agnes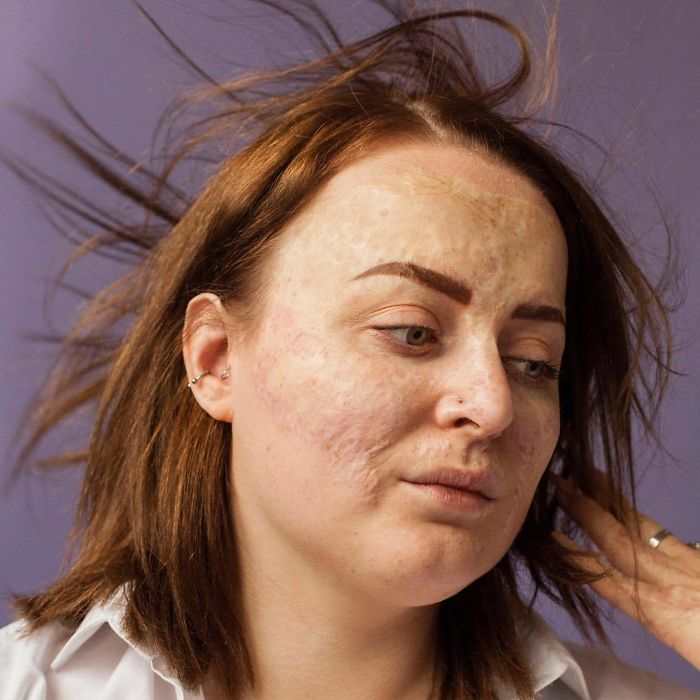 "In 1997 at the age of 7 i survived a gas explosion. I have undergone 27 reconstructive surgeries. I have always been comfortable with my scars, to me they are beautiful and they tell you different stories. They are special."
4. Tracey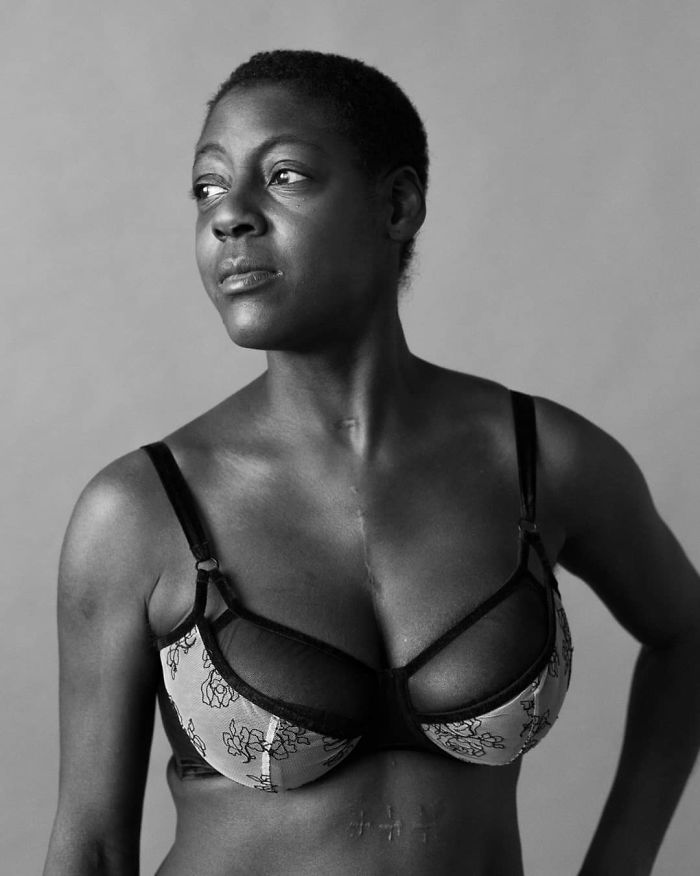 "My name's Tracey. I'm a 45 year old mother of two. In 2012, my GP diagnosed me with a common cold which drastically got worse. I was given cold medication which made me feel awful. I called 999 and someone came out to see me. They said everything was fine. Everything was fine for 40 minutes or so. I asked my daughter to make dinner, and then I went upstairs to lay down – and didn't wake up. My daughter called 999 and her and my friend Chyle got in an ambulance to Kings College Hospital. When I awoke, I was confused. I did not recognise my daughter or friend. They ran a CT scan and found out I had two types of meningitis. I was put in an induced coma for a month. When I was awoken, I could not speak. My daughter came to see me daily – I could hear her but couldn't reply which annoyed me. I later found they'd put feeding tubes down my throat – I was told that I kept trying to pull all of the tubes out. I was kept in intensive care for a further two months before having a heart attack. Whilst I had my heart attack, Doctors found a growth on my heart valve and a whole in my heart. They replaced my valve with a titanium one – which ticks like a little clock. After the operation they moved me back to the ICU, but this time I was in an isolated room because of the meningitis and recovery. After a month I was given a tracheostomy which allowed me to talk and communicate with Doctors, nurses and my family. For a while, I couldn't speak properly and could only manage basic communication and small talk. I found it hard to understand others, but tried through one word answers. In April I was moved to Lewisham hospital's neuro ward where the Doctors taught me the basics of counting, talking, walking, eating, drinking, washing and dressing. For the first month I could not walk properly so I was given a wheelchair – and then a zimmer frame to walk around the ward called "Frank Cooksey". The cooks on the ward kept feeding me as I was a size 2-4 at the time – after weeks of walking around the ward, they let me walk around the hospital with family, friends and hospital staff."
5. Megan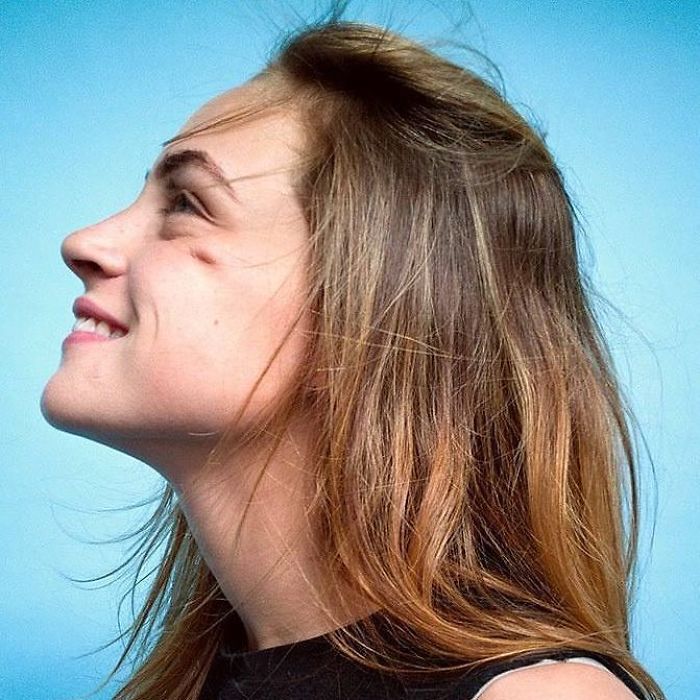 "When I was 14 I rescued a stray horse called Fly, and I fell in love with him immediately. One morning, I was feeding the horses in the field (just like every other morning). Fly tried to kick another horse behind him, but missed and kicked me in the face, just below my left temple. At first I was shocked, I was young and alone in a field and covered in blood. However after a few trips to the hospital the scar is just a part of my face. Now it's been 4 years since I was kicked, the scar has created an adhesion to my cheek bone which is why is is noticeable. Although being faced with an opportunity to remove the scar, I never would. I don't think beauty has to be symmetrical!.
6. Bintu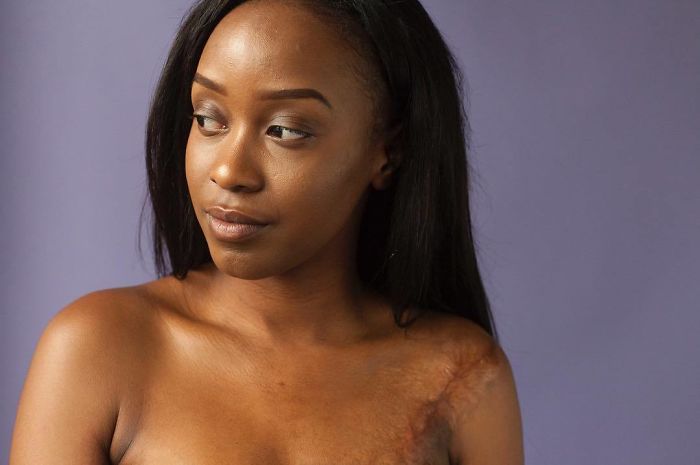 "When I was young, I pulled a cup of hot boiling tea off the counter. As a result, it burnt my left shoulder down to my left breast and stomach. My scar has been with me since I was 11 months old – it is all I know, I don't even remember my body without a scar. I have my confident days where I say "It's just a scar". I'm sure everyone has a scar. I've definitely had my bad days, but only when I meet a new face and they stare at it in disgust. It makes me think OMG is there something on my body? And then I remember "the burn" lol. I wear this scar because it is a part of me. It's just a scar."
7. Isabella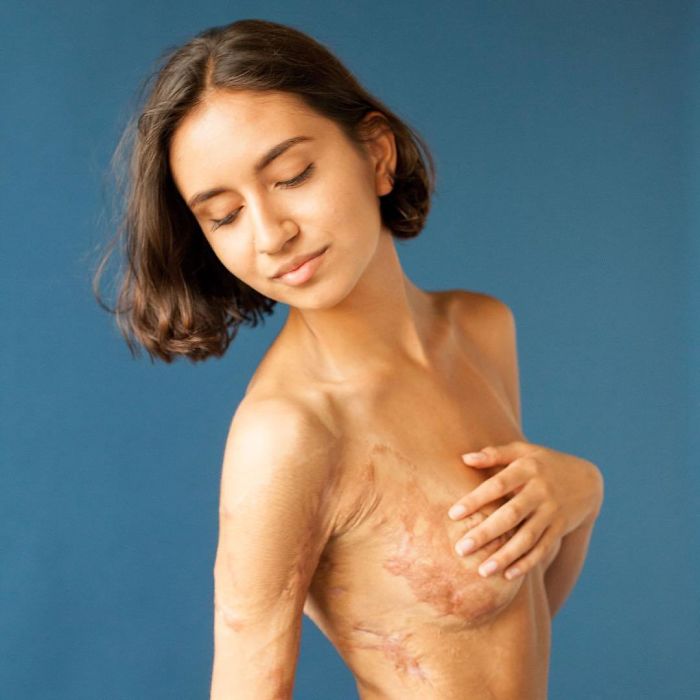 "Today I am a little angry at the world. I'm angry that it's been 2 years and 2 days and I still don't feel complete. I have been cut up and then stitched and stapled, but today I don't feel whole. I'm angry that my memories and dreams of what happened blend together with the present. It's 2 years and 2 days and today I don't feel okay. But I will. "
8. Sam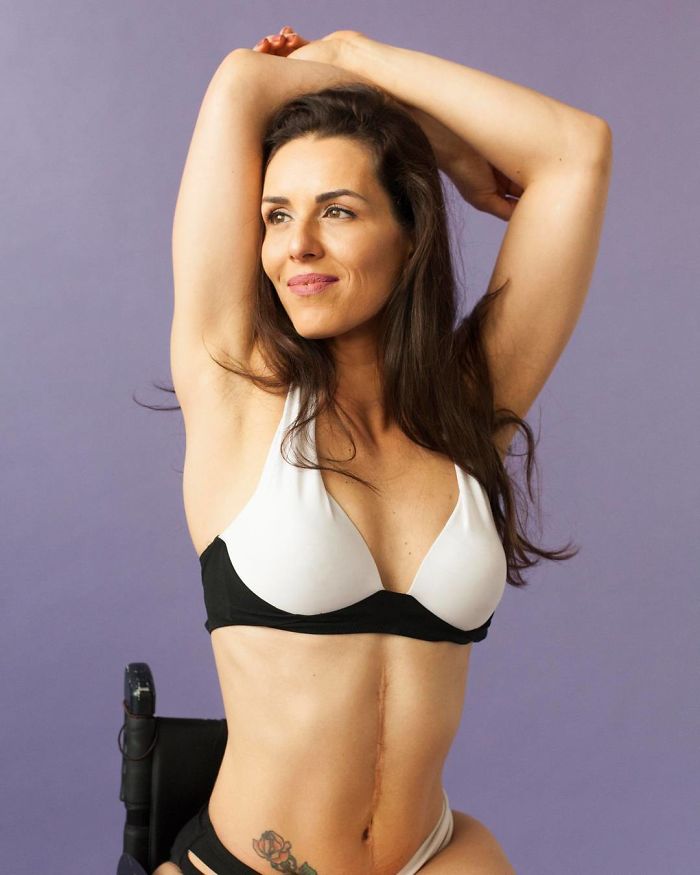 "I played with a hand gun at age 14 and it gave me a lifetime in a wheelchair. But despite what you might think, I've never found a reason to be victimised by my condition. My spiritual and physical scars made me grow stronger, empowered. I wanted to be a tennis player, so I became a tennis player. I wanted to be a model, and guess what… I am a model. As a model of diversity, I work in the fashion industry representing people that have limitations but are not limited. They love, they fight, they win, they lose. They are real and my story helps them to see how beautiful and meaningful they are. All scars included."
9. Zuzanna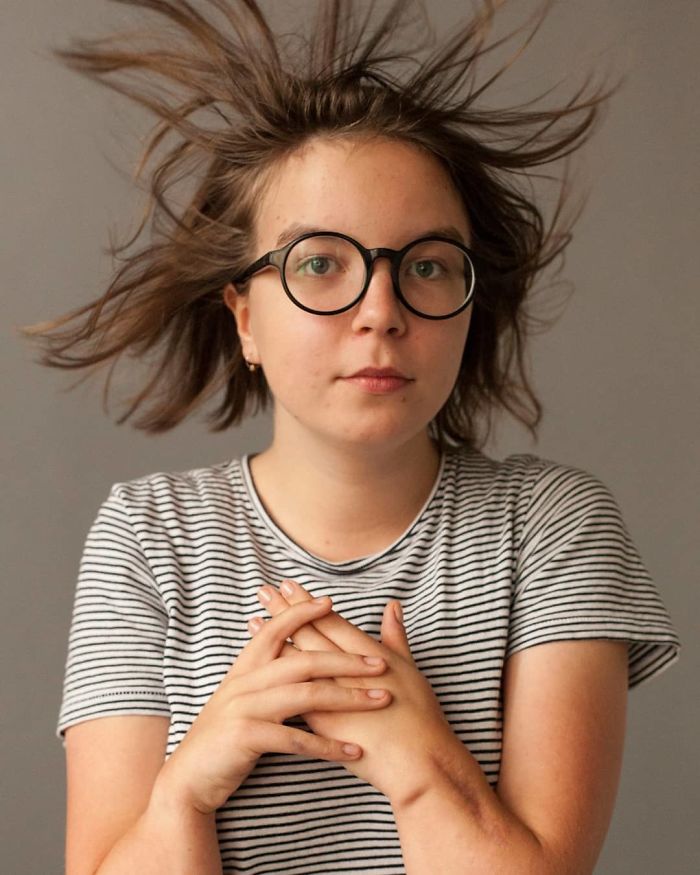 "I was born without both radius. When I was one I had my first surgery on my right hand. One year later doctors decided to operate on my left hand. Two different doctors operated on my hands. The first operation went well. During the second operation, there were some complications. Doctors didn't know that bones in my left hand are different from the ones in my right hand. When I was 15, I noticed that there was something wrong with my left wrist. I had to have surgery once again. This disease is called hemimelia, and a case like mine happens for 1 in 100,000 people. I always had a big problem with my scars – I couldn't accept myself because of them and other people also had a problem with my scars. Now I think that this is who I am. Finally I can feel that I don't have to hide it, because this is the real me."
10. Chloe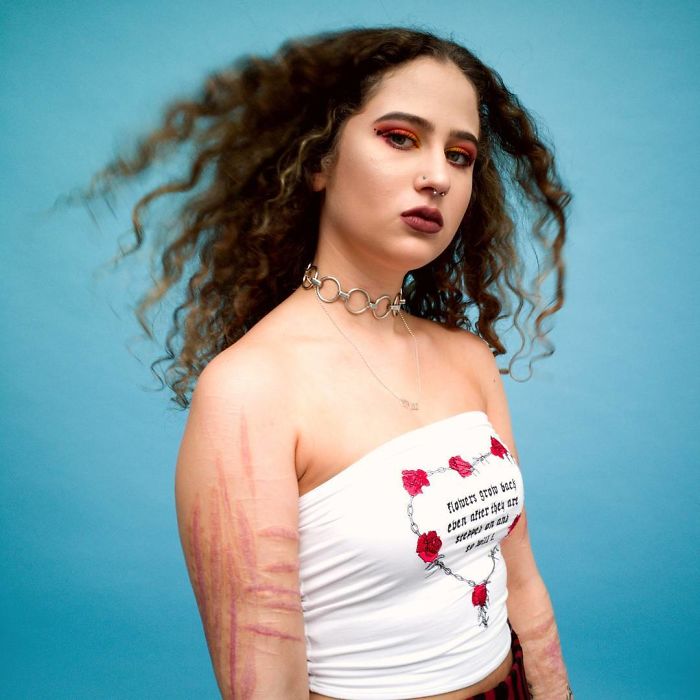 "I started self harming when I was 13 and have struggled with it ever since. The issue with self harming is it gets progressively worse and you end up doing more and more damage to yourself than you think is possible when you first start. It truly is an addiction and you get to a point where surgeons tell you that plastic surgery can't fix the appearance of the scars, so the only thing you can do is love your scars so much that all the negative connections that come along with self harm slowly disappear – along with all the pain attached to the scars. My scars tell my story, and I'm never going to let anyone else's thoughts or opinions change that. "
Source: BoredPanda
Photo Credit: sophiemayanne